Every manga that appeared in the magazine Shonen Jump will get a fan poll that appears once a year. Oumagadoki has not yet but there was a poll about the most popular girls in the manga series that has been published under Shonen Jump.
Jump Girls
Edit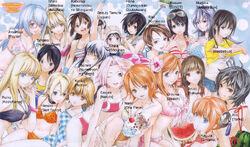 It has been showed different of girls that were coming from Shonen Jump, Including:
Amamiya - Psyren
Shino - Metallica Metallico
Kaburagi - Hokenshitsu no Shinigami
Beauty Tamara - Jaguar
Riko - Kuroko no Basket
Hasuno - SWOT
Medaka - Medaka Box
Tamako - Inumaru Dash
Tsurara - Nurarihiyo no Mago
Chika - Shounen Shiku
Aoi - Beezlebub
Reiko - Kochikame
Himeko - Sket Dance
Kyoko - Katekyo Hitman REBORN!
Sakura - Naruto
Nami - One Piece
Orihime - BLEACH
Azuki - Bakuman
Rin - Toriko
Kagura - Gintama
Ad blocker interference detected!
Wikia is a free-to-use site that makes money from advertising. We have a modified experience for viewers using ad blockers

Wikia is not accessible if you've made further modifications. Remove the custom ad blocker rule(s) and the page will load as expected.